QuickBooks Class
(QuickBooks Online or QuickBooks Desktop)
A QuickBooks Accounting Class Tailored Just for You!
Regardless if you use QuickBooks Online (QBO) or QuickBooks Desktop (QBDT), our class will be right for you. At QuickTrainer, we know how to best teach you QuickBooks. Our years of first-hand experience has shown the best way for you to learn QuickBooks is One-on-One. No distractions from others; just you and a QuickTrainer Consultant working together to ensure your QuickBooks Class experience is the best it can be. PLUS, we work with clients across the U.S., remotely and in person.
This approach also offers something for everyone, no matter what your level of QuickBooks knowledge is. First timer? No worries; we'll start from scratch. Have some experience with QuickBooks? We'll discover what you know, what you don't know and build on your QuickBooks knowledge. Want to spend your class time looking at your real data? Want to know what the issues are with your QuickBooks data? We actually encourage this approach!
QuickBooks Online:
Get more done throughout your day with the next generation QuickBooks.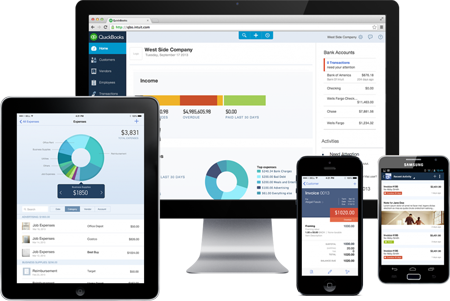 Buy Now
Some Of The Things You Can Expect To Learn In Our Personal QuickBooks Class…
Because our QuickBooks Classes are targeted at your specific needs you can expect to learn those things that are specific to your needs. Here are a few examples:
What is a Chart of Accounts and what should yours look like?
Invoices - How to create a custom invoice and how to properly utilize invoices.
Receiving Payments - How to apply payments, shortages, discounts, overages, etc.
Entering and Paying Bills.
Banking - Reconciling, dealing with deposits posted incorrectly, what to do when the balances don't match.
Monthly Closing - Balance Sheet and P&L Analysis, Reconciling A/R, A/P & Inventory to the General Ledger.
Setting a Closing Date and Password.
Setting up Items (Inventory, Non-Inventory, Service, etc.)
Job Costing - Setting-up Job Costing, Posting Transactions, and Analyzing Job Cost Reports.
Reports - Understanding a Balance Sheet, Profit & Loss, Sales History, Trial Balance, and Customizing Reports.
Again, make your own list of questions and we'll see that you learn how to address your questions.
Frequently Asked Questions:
Q. Is your Class for beginners? Is your Class for Intermediate users? Is your Class for Advanced users?
A. Regardless of your QuickBooks knowledge, our class will be GREAT for you. All our classes are designed to meet you where you are in your QuickBooks knowledge, no matter which version you are using. Our approach is typically to a) look for setup/tweaking that needs to be done, (b) data cleanup that needs to be performed and (c) teach you how to use QB going forward. Out of this, you may find our QuickBooks expert and instructor, will give you some homework to do as well. It's also common the instructor will split the class up into two sessions. This will allow you to better absorb what your instructor is teaching you while allowing you to complete any homework assigned.

Q. I use QuickBooks Online (QBO); does your class teach QuickBooks Online users?
A. Absolutely! In fact, we are seeing an overwhelming majority of people who take our Classes are using QuickBooks Online.

Q. Is this a one-day class?
A. Yes and no. When you take our QuickBooks Class, you get about five hours of training. Most people who take our class want to do so in two sessions. This approach has shown to work best. Two sessions allow you to (a) absorb what is being taught, (b) apply what you are learning and (c) if you are given homework, complete your assignments. However, we are more than happy to conduct your class in one day if this is what you prefer. We will do what works best for you!
Q. What time does class begin and end?
A. Your QuickBooks Class typically begins at 10:00 AM EST and typically concludes ~12:30 PM EST if we are doing the class in two sessions. If we are conducting your class all in one day, then the class will begin at 10:00 PM EST and conclude ~3:00 PM EST.
Q. Where are your QuickBooks classes taught?
A. Anywhere in the world you reside. The majority of our classes are taught remotely. We use Remote Connection Software (Splashtop.com) to connect with you. If you are local to Wilmington, NC, then we can, and will, meet you in person at a local coffee shop, your office or home.
Q. What happens if I have questions post-class?
A. QuickTrainer prides itself on the fact we never nickel and dime our clients. If you need to call or email us with a few questions, you'll never see an invoice from us. Obviously, if you have questions daily, we probably need to have another conversation. Seriously, we want to help you. We want your experience with us to be very positive.
Q. Do you sell a book on QuickBooks?
A. We call it a "manual". QuickTrainer offers students the opportunity to purchase our QuickBooks manual, " QuickBooks How To Guide " before or after they have enrolled in our class. Our manual was written by Jim Merritt, President & CEO of QuickTrainer. He is QuickBooks Advance Certified by Intuit, the makers of QuickBooks. Jim developed this manual with daily users of QuickBooks in mind. The cost of our manual is $34.95. NOTE: At this time, the above QuickBooks How To Guide is only geared towards QuickBooks Desktop (QBDT).
Q. Do you cover payroll in this class?
A. While this QuickBooks Class does not cover payroll, we do offer a QuickBooks Payroll Class . Payroll typically takes about three hours to teach and deserves its own separate session.
Q. Do you issue refunds for your classes?
A. Once you have signed up and paid for a class, QuickTrainer does not offer a refund. The reason is simple; we have allocated our time for your class and likely turned down other client opportunities. However, we still want to be a good steward with the money you have spent. With that said, if something happens and you cannot attend your originally scheduled class (after all, people do get sick, can be called out of town, the weather can be dangerous), we will gladly reschedule your class. Perhaps you originally wanted a class, but now believe you would be better served using us for Consulting Services instead of a class. Not a problem. We will gladly allocate hours so that you receive the appropriate amount of billable hours towards the money you have paid us. Either way, you win!