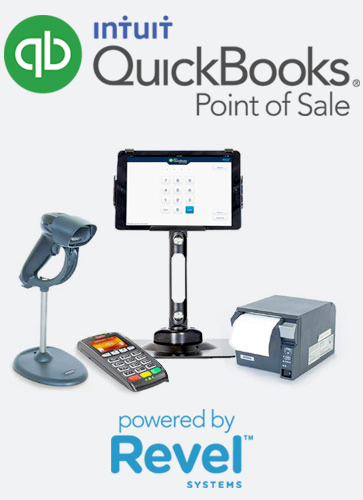 As I write this blog, I am concluding the attendance of 2-1/2 days of intense training in Orlando, FL. The training is for Intuits new POS product, "QuickBooks POS powered by Revel Systems". I was excited about coming to FL for this training and I find myself even more enthused by what I have seen and learned over the past few days.

Revel Systems is leading the industry with its award winning software and hardware innovation.

A QuickBooks POS powered by Revel Systems (QBPOSpbR) systems serves the following industries:
Retail

QuickServe Restaurants

Full Service Restaurants

Wine Bars

Bar Establishments

Kiosks

Stadium and Event Driven Establishments

Grocery

And many more (just ask us)!
Below are just a few highlights of what a QuickBooks POS powered by Revel Systems (QBPOSpbR) can do for your business:
QBPOSpbR is iPad based. It's touted as "The iPad Point of Sale Solution". In other words, it's Cloud Based.
QBPOSpbR is NOT dependent on the Internet. It's Always On Architecture means when your Internet goes down, your businesses POS keeps on working. This includes any credit card transactions you may process during your outage. Once your Internet connection is restored, processed transactions are updated to your Cloud Based server. NOW THAT'S VERY COOL!

QBPOSpbR lifts the IT burden off of your business and centralizes it at Revel Systems.

QBPOSpbR transactions occur on one screen in a very well thought out User Interface (UI).

Intuit Merchant Services is integrated into Revel POS and is tightly secured via very strong PCI Compliance. QBPOSpbR uses P2P (Point to Point) security which means credit card information is never stored on your QBPOSpbR system. QuickTrainer strongly and confidently recommends Intuit Merchant Service for this solution.

When you accept credit card transactions, via Intuit Merchant Services, once the end of day batch is settled with the bank, Revel POS talks to QuickBooks and moves those settled payments from Undeposited Funds to a Deposit. You don't have to do a thing with credit card deposits. VERY COOL!

Because the QBPOSpbR solution is hosted in the cloud, you have no nagging reasons to upgrade computers, server or POS software. The cost of ownership is very affordable for any small business in need of a POS solution.

QBPOSpbR writes data to QuickBooks. This means, no more manual recording of Daily Sales, no need to enter Bills for merchandise received. QBPOSpbR writes these over for you.

Speaking of writing data over; your employees clock in and clock out via Revel POS and this data is written over to QuickBooks whereby a QB Time Sheet is created. AGAIN, VERY COOL!

Using the QBPOSpbR solution means you can access reporting from anywhere in which you have an Internet connection.

QBPOSpbR uses a Cloud Based back office server. If you want to make tweaks to how your system is functioning, as long as you have an Internet connection, you can login to your BackOffice Server and quickly make those changes, EVEN IF YOU ARE CURENTLY VACATIONING IN THE BAHAMAS.

Gift Cards and Reward Cards are supported and encouraged.

Open Source E-Commerce Platform (through Revel's Open API). If your business sales product and/or services via the Internet, QBPOSpbR can handle this as well.
QuickTrainer, Inc has been, and continues to be, a long time Intuit Reseller Provider and is very proud to announce that we are now resellers of Revel hardware and Software as a Service (SaaS) POS solutions. If you have additional questions or are interested in pursuing a QuickBooks POS powered by Revel Systems for your business, please call QuickTrainer, Inc. at 910-338-0488 or send us an email at revelpos@quicktrainer.net . We are more than happy to answer your questions and help you in any way we can.

Regards,

…Jim