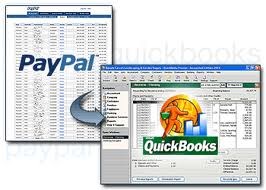 From time-to-time, a piece of technology is created that simplifies our world and saves us time and therefore, our client's real money. Such is the case with SimplePort; an application that syncs your PayPal data with QuickBooks making this task a very simple one to accomplish.

For years now, I have been working with a client who has not only one, but two PayPal accounts used regularly in their business. In the past, I have had to enter transactions manually, which can sometimes take 2-3 hours per month, per account and then I reconcile these PayPal accounts like any other bank account. No MORE! With just a few mouse clicks, SimplePort reads your PayPal History file and creates an Intuit Interchange File (a.k.a. IIF) which can quickly be imported into your QuickBooks data file.

One thing that makes this process even better is the company behind this product, Simple Business Systems. I have had the honor of working with Rod Scott. Rod's communications with me have been top notch and I suspect any of you reading this blog article would experience the same. No doubt, the folks behind SimplePort want to see you succeed with their application. Though I believe it's more than just the revenue they will receive by you succeeding; rather, I believe they genuinely care. You see, people like Rod had the same issues I experienced (i.e., manually entering PayPal transaction into QuickBooks). They saw a problem and set out to develop a solution to fix the problem, and they have succeeded. And now they want you to experience the ease in which transactions can be delivered from PayPal to QuickBooks.

Recently, in a 45 minute screen share session with Rod, he showed me the "in's-and-out's" of SimplePort and how it can make my PayPal experience a breeze. But before we even spoke, Rod had already requested some configuration data from me so that he could do the necessary setup of my SimplePort configuration. Once done, he emailed me a file to import into my QuickBooks file which I did with no issues. The setup efforts done by Rod are standard for SimplePort users. Again, they make it so easy.

In our screen share sessions, Rod explained to me how the fact that I have two PayPal accounts can easily be addressed. Additionally, he showed me how I can map various expenses from PayPal to the proper G/L account in QuickBooks. It really is a simple and beautiful thing.

After Rod and I had ended our screen share session, I closed my web browser and my QuickBooks file. I wanted to start from scratch. Below are the steps, from beginning to end, I took to get PayPal transactions from March 23rd through April 27th:
Logged into my subject QuickBooks file.
Made a backup of my QuickBooks file (always a good idea to backup your data before you import ANY data into your file).
Opened my web browser and logged into SimplePort.
Downloaded my PayPal Transaction History Log file as a "Tab Delimited - All Activity" type file.
Within SimplePort, I specified where my PayPal Transaction History Log file could be found.
I then specified where my QuickBooks Item file could be found.
I then specified the output name of the file SimplePort would create for importing into QuickBooks.
I then clicked on "Download SimplePort QB IIF file".
Finally, from within QuickBooks, I went to "File", "Utilities", Import", "IIF Files" and specified where the SimplePort QB IIF file, created above, was located.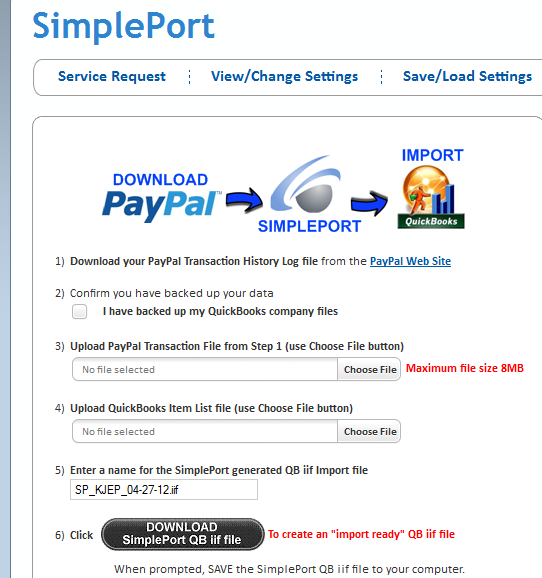 Done! The above took me 2 minutes, 37 seconds from start to finish. Yes, I had to tweak 6 transactions that were posted to a G/L account called, "PayPal Default Expenses". This is an account SimplePort writes to when it does not understand where a transaction should be posted to. But the good news is the folks at SimplePort have addressed this as well. You see, Rod also showed me how I can teach QuickBooks what to do with transactions from Vendors so it knows what account to post to. For example, let's say in PayPal you see transactions from vendors such as, "AMAZON SERVICES-KINDLE 866-321-8851 WA" and "AMAZON.COM AMZN.COM/BILL WA" there is a very simple process for teaching QuickBooks that anytime it encounters a Vendor name beginning with, say "Amazon" that it should post that transaction to say, Books & Publications (which is the correct account for my client).
SimplePort Pro ($19.95/mo) allows you to import an unlimited amount of PayPal transactions monthly. SimplePort Lite ($9.95/mo) allows for 100 PayPal transactions per month. There's no contractual obligation, you may cancel at anytime, although, I don't know why you would ever cancel unless your PayPal needs simply vanish. There's also a Free Trial option as well. You just can't go wrong with this application.
Got a PayPal account? Want an easy way to get your PayPal transactions into QuickBooks? SimplePort IS your solution. And when you give it a try, let the folks at Simple Business Systems know that I told you about SimplePort. I'm a huge fan!